Old Soldiers fade away, and in the process; frequently, a
long while later, they suffered the trauma and physical consequences of service related hardship and experiences. A soldier would initiate a petition for Pension claims,a tedious and bureaucratic nightmare. Ned Hopson made two petitions -- 1887 and 1891.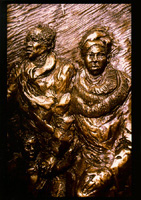 State of Illinois, Massac County
Original Claim of Ned Hopson, 1897
"Ever since being discharged from service, Dr. Black has been the only physician who treated me since discharge. I was struck on the march from Powder Horn to Victoria, Texas in July 1865, causing nervous prostration, and blindness, was treated in hospital at Victoria, Texas by Dr. DeWint (now deceased). The
eyes continued to get better and worse until finally I lost the left left eye. . . The
afflictions have continued to afflict each year since. them.
His "x" mark. Ned Hopson
---
War Department, 20 January 1888
Reply to inquiry: 613973
Widow's Mite: Pension claims of widow of
Ned Hopson pensioned under Certificate 518037: 20 June, 1896. Samuel Atwell, County clerk, Massac Illinois.Witnesses:
W.H. Richardson, Affiant
Curt Roby, Affiant
Edward Hopson, eldest son.
James Hill: Affiant, Jackson Precinct, Unionville, Massac Co, Illinois
---
"Hospital Presc. Books July 10 to July 14, '65. February 14, '66, incomplete, show him treated for Int. July 12 to 19, '65; July 20, '65 returned to duty. Records on file do not show disability alleged. Nor afford any additional information as disability during service.
Co. Mg reports covering July box... of his service and Co. return his service. Hospitial Register not on file."
The Commissioner of Pensions
Washington, DC
---

John Hill, Affiant He States "He was a comrade of Ned Hopson (deceased). He was a comrade in the same regiment and has resided near neighbor ever since 1867 until he died on 21 February 1896. AD 1896 ... He was present at the bed side of Ned Hopson when he died. . . the claimant and soldier were not previously married . Claimant has not remarried since the death of said soldier. All of the children claime are
---
under care of claimant. The deceased had no homes, lands or titles of any kind.. Entirely dependent upon the labor of herself and family of children. . .I know this because I have boarded with them for 10 years and lived close to them the remainder of the time since. since AD 1867.
His "x" mark. John Hill

Top | Second Petition