Act of June 27th:
14 July 1890
Ned Hopson
Aged 48, resident of Jackson Precinct, Massac
Co. Il...was enrolled 28 July 1864; Co D, 8th
Regiment US Col H Artillery Volunteer in the War of the Rebellion. Honorably discharged Victoria, TX
10 February 1866. That he is: totally unable
to earn a support (himself because of) lost of eyes, left totally, right partially, and
chronic diarrhea. Applied for pension under
application No. 613,973.
Thomas Liggett, Metropolis, Il, his true and
lawful attorney... Address: Petonia, Massac Co, Illinois.
Ned "x" Hopson, his mark
Attest: Ben Q. Jones
Signed: R.C. Barhem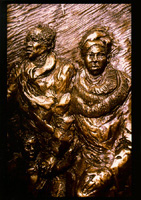 Quincy Renfro: Affiant - No. 613973

"He has been acquainted with claimant for
18 years...knows that his totally blind...
partially in other eye...chronic diarrhea...
knows him to bo a man of good moral
character (condition) not caused because
of is own vicious habits."
Quincy "X" Renfro, his mark.
Thomas Hutchinson, JP
General Affidavits: Affiants, Witnesses
Quincy Renfro
Thomas Hunt
John W. Evers, witness
Thomas Hutchison, Justice of Peace
Thomas Hunt: Affiant - No. 613973

"He has been acquainted with Ned Hopson for
twenty years and personally knows that he is
(as indicated previously). I resided near,
neighbors to him and know that he is a
good man."

Thomas Hunt, can read and write.
Thomas Hutchinson, JP
US Pension Agency: Chicago, Illinois,
Nov. 17, 1896:
"Ned Hopson...a pensioner
...(b June 27, 1890) to 4 Jan. 1896, has
been dropped because of death.

Pension Agent
Drop Report--Pensioner: Princeton, KY
Aug. 15, 1924: Finance Division
"Naomi Ann Hopson..last paid at the rate of
$30 per month to July 4 1924... dropped
because of Death, July 12, 1924.

Chief, Finance Division

Top | First Petition | Next