"The rich ethnic enclave provided the necessary environoment for the Kay
Cee sound to take hold. Over time,
some of the best musicians in the
country flocked to the 18 th and Vine
area to jam all night . . .As anywhere else, outside of
New Orleans, Ragtime, and Dixieland, was the music
in Kansas City until the 1920's. Jumpin' the blues
evolved in late 1930's with Count Basie's band being
on the cutting edge, defining the sound."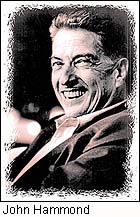 John Hammond --

Heard Count Basie on radio WXRY , he was inpressed and signed the band to a recording contract. A few hitches developed, like, Basie signing with Decca.
[More]
Photo:[AllMusic Guide]